Honoring the service of WWII, Korean, and Vietnam War veterans of Eastern Iowa
WELCOME HOME VETERANS
WELCOME TO THE EASTERN IOWA HONOR FLIGHT
The mission of the Eastern Iowa Honor Flight is to provide veterans with a "once in a lifetime" opportunity to visit monuments and memorials built in their honor for the sacrifice and service they made for our freedom.
All veterans are encouraged to apply. Priority is given to WW2 Veterans, Korean War Veterans, and Veterans with catastrophic illness followed by Vietnam Veterans and Veterans from other conflicts. Even if you did not serve in combat you are still illegible to apply. Our mission is to take every veteran who applies. Due to a large waiting list please apply only once, your applications are kept on file.
The Eastern Iowa Honor Flight accepts applications from veterans in Benton, Iowa, Jasper, Jones, Johnson, Linn, Marshall, South Tama, Poweshiek and Washington Counties. Veterans from surrounding areas are welcome if they are able to fly from The Eastern Iowa Airport in Cedar Rapids.
Thanks to everyone who helped us make the 2019 Eastern Iowa Honor Flights a great success! Because of your continuing support we were able to fly 385 veterans to Washington, DC.
| | |
| --- | --- |
| Number of Flights: 38 | Number of Veterans Flown: 3435 |
2020 Flight Dates
Flight day information
All Honor Flights depart the Eastern Iowa Airport at 7 AM and return to Cedar Rapids between 8:30 and 9:00 PM. All families and friends are encouraged to join the Welcome Home celebration to welcome their favorite veterans home and share the stories they have to tell of the trip. On the welcome home nights parking is free so join us in the festivities.
The Eastern Iowa Honor Flight is proud to recognize three World War Two veterans who celebrated their birthday. From Left to right: James Washburn turned 94 on HF37 flight day, LeMoyne Hucke turned 99 on HF38 flight day, and Mike Wilson, original EIHF founder and Advisor turned 95 on October 27th. Thank you for your service
Real ID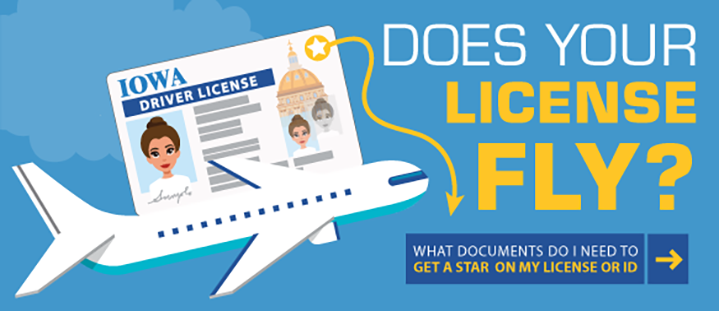 REAL ID
Beginning Oct. 1, 2020, If you fly commercially you'll either need a REAL ID license or ID or another acceptable identity document, or you're going to be subject to additional screening and potential delay.