Honoring the service of WWII, Korean, and Vietnam War veterans of Eastern Iowa
WELCOME HOME VETERANS
WELCOME TO THE EASTERN IOWA HONOR FLIGHT
The mission of the Eastern Iowa Honor Flight is to provide veterans with a "once in a lifetime" opportunity to visit monuments and memorials built in their honor for the sacrifice and service they made for our freedom.
All veterans are encouraged to apply. Priority is given to WW2 Veterans, Korean War Veterans, and Veterans with catastrophic illness followed by Vietnam Veterans and Veterans from other conflicts. Even if you did not serve in combat you are still eligible to apply. Our mission is to take every veteran who applies. Due to a large waiting list please apply only once, your applications are kept on file.
Who is eligible to apply? Army, Navy, Marines, Air Force, Coast Guard, Reserves, and National Guard veterans serving during war or peace time, serving over seas or stateside.
The Eastern Iowa Honor Flight accepts applications from veterans in Benton, Iowa, Jasper, Jones, Johnson, Linn, Marshall, South Tama, Poweshiek and Washington Counties. Veterans from surrounding areas are welcome if they are able to fly from The Eastern Iowa Airport in Cedar Rapids.
Thanks to everyone who helped us make the 2019 Eastern Iowa Honor Flights a great success! Because of your continuing support we were able to fly 385 veterans to Washington, DC. We are planning to make the 2020 flight season an even bigger and better. See the calendar below for the 2020 flight dates.
| | |
| --- | --- |
| Number of Flights: 38 | Number of Veterans Flown: 3435 |
2020 Flight Dates
Flight day information
All Honor Flights depart the Eastern Iowa Airport at 7 AM and return to Cedar Rapids between 8:30 and 9:00 PM. All families and friends are encouraged to join the Welcome Home celebration to welcome their favorite veterans home and share the stories they have to tell of the trip. On the welcome home nights parking is free so join us in the festivities.
The opening line of Franklin D. Roosevelt speech before Congress "Yesterday, December 7th, 1941—a date which will live in infamy—the United States of America was suddenly and deliberately attacked by naval and air forces of the Empire of Japan". American men and women, both enlisted and drafted joined all branches of our country's military service to eventually defeat the Japanese in the Pacific and the Nazis in Europe and North Africa.
This December, the Board of Directors and Volunteers of the Eastern Iowa Honor Flight would like to honor the more than 405,000 Americans who gave their lives in the conflict of World War Two. We would also like to honor the families and civilian workers who took part in the war effort to bring an end to the greatest conflict in history.
Real ID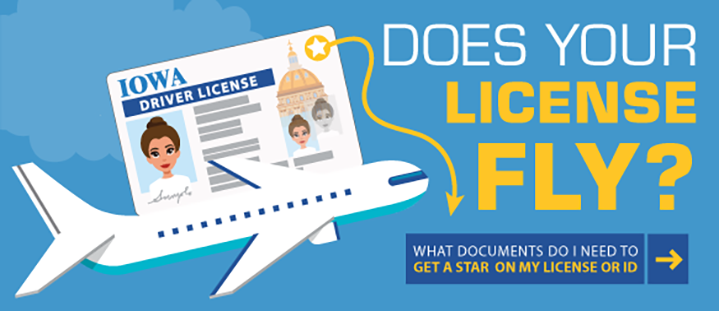 REAL ID
Beginning Oct. 1, 2020, If you fly commercially you'll either need a REAL ID license or ID or another acceptable identity document, or you're going to be subject to additional screening and potential delay.