Memorial Day, May 25th, 2020
This Memorial Day, May 25th, 2020 will be a day to be remembered like no other Memorial Day in American History. The Covid-19 virus has changed life so dramatically that we have all had to adapt to a "new" way of life. Social distancing, PPE, and shortages of daily essentials have made us realize the reality of the battle we all are facing, not only here at home, but world wide.
We at the Eastern Iowa Honor Flight would like to take a moment to thank not only our veterans, past and present, but all the Front Line people who have become our new American heroes. The doctors, nurses, paramedics, law enforcement, fire fighters, and everyone else who have sacrificed themselves to help us survive this pandemic. And let us not forget those who have died at the hands of this unseen enemy, they too are heroes.
As we slowly begin to return to a "new" normal we will never forget those who gave the ultimate sacrifice for this great country we call home, America. We will survive and come back even stronger.
Thank you to everyone.
The Eastern Iowa Honor Flight Board of Directors and Volunteers.
The 2020 flight season has been canceled
Veterans and Guardians,
The Eastern Iowa Honor Flight is sad to announce that all Honor Flights for 2020 have been canceled. This decision was made by the National Honor Flight Board of Directors in the interest of safety for all who are involved with bringing flights together, especially the veterans.
The Board of Directors of the Eastern Iowa Honor Flight concurs with the National Board. During this Covid-19 pandemic the safety and health of our veterans, guardians, and staff is of the utmost importance.
Even thought we do not know when we will get approval from the National Honor Flight to fly again, we are in the process of planning the 2021 flight season. Be assured all veterans who were scheduled to go on a flight in 2020 will be first in line when we resume flights.
The Eastern Iowa Honor Flight Board of Directors and Volunteers. .
Honoring the service of WWII, Korean, and Vietnam War veterans of Eastern Iowa
WELCOME TO THE EASTERN IOWA HONOR FLIGHT
The mission of the Eastern Iowa Honor Flight is to provide veterans with a "once in a lifetime" opportunity to visit monuments and memorials built in their honor for the sacrifice and service they made for our freedom.
All veterans are encouraged to apply. Priority is given to WW2 Veterans, Korean War Veterans, and Veterans with catastrophic illness followed by Vietnam Veterans and Veterans from other conflicts. Even if you did not serve in combat you are still eligible to apply. Our mission is to take every veteran who applies. Due to a large waiting list please apply only once, your applications are kept on file.
Who is eligible to apply? Army, Navy, Marines, Air Force, Coast Guard, Reserves, and National Guard veterans serving during war or peace time, serving over seas or stateside.
The Eastern Iowa Honor Flight accepts applications from veterans in Benton, Iowa, Jasper, Jones, Johnson, Linn, Marshall, South Tama, Poweshiek and Washington Counties. Veterans from surrounding areas are welcome if they are able to fly from The Eastern Iowa Airport in Cedar Rapids.
Thanks to everyone who helped us make the 2019 Eastern Iowa Honor Flights a great success! Because of your continuing support we were able to fly 385 veterans to Washington, DC. We are planning to make the 2020 flight season even bigger and better. See the calendar below for the 2020 flight dates.
| | |
| --- | --- |
| Number of Flights: 38 | Number of Veterans Flown: 3435 |
2020 flight date cancellations
Iowans who served.
When World War 2 broke out, 226,638 Iowa men and women answered the call to duty. Of those who served 8,398 died in the line of duty. But World War 2 would not be the last time Iowans would face danger in a foreign country. From June of 1950 to the end of combat on July 27, 1953, 85,341 Iowans served in the Korean Conflict. Of those, 508 were killed. Then came Vietnam. From the first landing of Marines at Danang in March of 1965 until Saigon fell in April of 1975, 115,000 Iowans were either drafted or enlisted in all branches of service. Eight hundred sixty-seven Iowans never came home. Two other calls to duty were the Persian Gulf (August 2, 1990-February 28, 1991) and Panama/Granada invasion (October 25, 1983-December 15, 1983). Between the two, 3,935 Iowans served. Of those 7 died in the Persian Gulf and 2 in Panama/Granada.
Update: The deadline for upgrading to a Real ID has been extended to October 1, 2021.
Real ID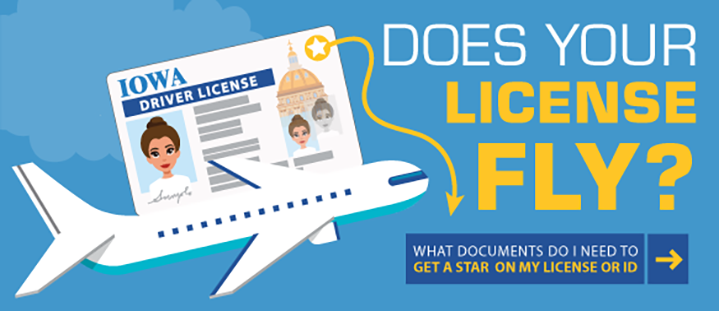 REAL ID
Beginning Oct. 1, 2020, If you fly commercially you'll either need a REAL ID license or ID or another acceptable identity document, or you're going to be subject to additional screening and potential delay.